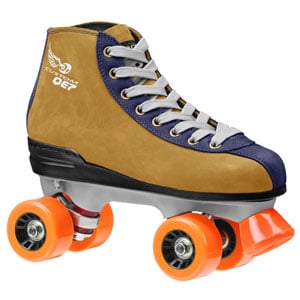 QE-7 quad rental skates from Pacer.
Sizes 12J-13.
Traditional leather boot rental skates.
Full grain leather boot with Cambrelle+ bacteria resistant lining.
Custom-sewn heel lock for longer life.
Kleenfree polyurethane wheels.
Silver-3 speed bearings.
We stock the design shown above.  But if you order at least 300 pair, you can design your own skates with custom colors and logo.