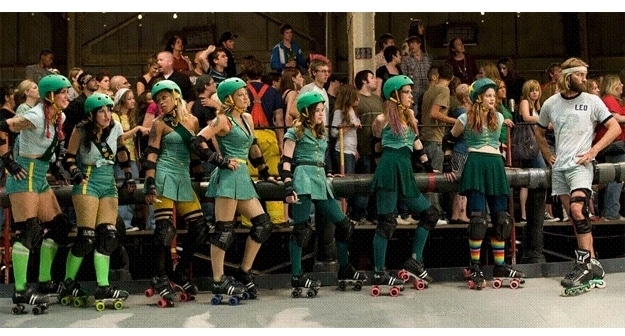 Here at Southeastern Skate Supply, we're obviously passionate about roller skating and skating rinks – so of course we also love to see our favorite pastime on the silver screen! If you love roller skating as much as we do, check out some of our favorite roller skating movies. 
Roll Bounce
This 2005 film starring a young Bow Wow revolves around a group of friends whose "home" skating rink closes, forcing them to not only relocate to a tonier skating rink, but also prove themselves to the crowd at the new rink in a high-stakes skating contest. A great soundtrack, late 1970s fashion, and heartfelt plot will make you nostalgic for the days of roller disco. 
Whip It
No list of roller skating movies is complete without Whip It, a coming of age tale about getting knocked down (in roller derby and in life) and getting back up stronger than ever. The grrrl power message and awesome roller derby action in this 2009 movie are matched only by the phenomenal cast, including Ellen Page, Drew Barrymore (who also directed and produced the film), Juliette Lewis, Kristen Wiig, Alia Shawkat, and Eve. 
ATL
2006 dramedy ATL is another coming of age story, this time set in – you guessed it – Atlanta. Loosely based on the life experiences of producers Tionne "T-Boz" Watkins and Dallas Austin, the film follows a group of friends growing up in Atlanta and hanging out at their neighborhood's place to see and be seen: the skating rink. This film boasts a star-studded cast, though it was the first feature film for many of them, as well as the director! In addition to T.I., OutKast, Lauren London, and others, the film features cameos by Killer Mike and Monica.  
After watching these movies, you're sure to feel like hitting the skating rink and sharing the fun of roller skating with everyone in your life.