Whether you sell skates at your roller rink pro shop or are just trying to figure out what kind of skates to buy, welcome! We're sharing a quick guide to the main types of quad roller skates to give you an overview of the options and the differences between types of skates.
Speed Skates 
While inline speed skating is slightly more common, quad speed skates are quite popular as well. Just like a running shoe, speed skates are designed to make them ideal for speed, with a close-to-the-foot fit that more closely resembles a shoe than many other skate boots. The main goal of a speed skate is, well, speed! In order to make the skate lighter weight (and thus faster), a speed skate will have less padding and a lightweight plate, making it great for long distances and intense training sessions. The boot will usually be low-cut under the ankle bone to allow for a wider range of movement; flexibility and agility are key when maneuvering at top speed! 
Jam Skates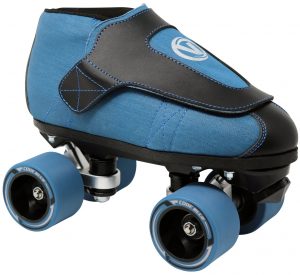 Like speed skates (which have also become popular with some jam skaters), jam skates are designed to be lightweight and are cut low around the ankle for maximum range of movement. This allows the skater to perform the fancy footwork that sets jam skating apart! The only real difference between skates marketed as "jam skates" vs. "speed skates" is the toe. Speed skates have a toe stop, which can get in the way if you're trying to pull off certain jam skating moves. Instead, jam skates will have a toe plug, which can be replaced in many different colors to fit your style. 
Roller Derby Skates
Roller derby is a pretty intense contact sport (on wheels!) so not only is it action-packed and fun to watch, but it's also a bit rough on skates and skaters. Derby skates may look a lot like speed skates or jam skates, but they typically have much more padding to protect the foot from impact with other skaters and the track. Roller derby skates often have a velcro strap in addition to the traditional laces to ensure a locked-down, secure fit. 
Artistic Skates
If you've ever seen roller skating that looks more like ice skating or figure skating, you've seen artistic skating in action. Artistic skates have the "old fashioned" silhouette that you probably think of when you think of a classic roller skate. The higher cut of the boot provides more ankle support than low-cut skate styles, which is important when performing spins and jumps. 
Artistic skates generally have a higher heel than other types of skates, distributing more weight to the front of the plate and thereby increasing both control and agility – important factors when attempting the intricate moves of artistic skating. 
Rhythm Skates
Rhythm skates are generally more like artistic skates than jam skates, even though both of these types of skates are used for dancing. However, unlike jam skating which is much more break-dancing-inspired, rhythm skates are used for old school styles of dancing on roller skates, namely shuffle skating or rhythm (short for rhythm and blues or R&B) skating. This style generally keeps all 8 wheels on the ground most of the time, and the focus is on rolling and bouncing to the beat of the music. 
Outdoor Skates
The only difference between an outdoor skate and an indoor skate is the type of wheel you use. Indoor skating on hard, even, clean surfaces requires a harder wheel for a smooth roll. However, if you were to take your skates outside with the same wheels on, you'd quickly find that the rough, uneven, and unpredictable surfaces are not conducive to roller skating. The simple solution to make your skates ready for the great outdoors is to trade the wheels for a softer version. Outdoor skate wheels have more "give," allowing them to absorb the shock of hitting cracks, bumps, twigs, etc. as you roll along. 
Take a look at our skate catalogs, and get in touch to place an order for your skating rink!