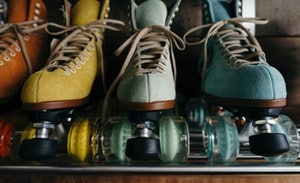 Whether you're replacing the wheels on your rink's rental skates, ordering wheels for your pro shop, or just want to upgrade your personal set of wheels, we've got you covered. At Southeastern Skate Supply, we carry a wide variety of indoor and outdoor skate wheels, not to mention quad roller skates and skate parts. Check out our guide to skate wheels and learn how to pick the right wheels for your skates. 
Choosing the Right Wheel Hardness
What type of surface will these wheels be used on? The amount and type of texture present on the skating rink or outdoor surface will determine the hardness of skate wheel needed. For instance, skating on a cement sidewalk or driveway will require a softer wheel (under 90A) while a smooth, hard skating rink surface calls for a harder wheel. Aim for 86A and up for polished wood floors, or 90A and up for polished concrete floors. 
Other Wheel Hardness Factors 
There are some factors that may affect the wheel hardness you'll want with your skates. For instance, beginner skaters may appreciate the added "grip" and stability of a softer wheel, even for skating indoors. The hardness you need also depends on what type of skating you plan to  do. If you're speed skating, you'll need a harder wheel for maximum speed. 
Skate Wheel Diameter
Roller skate wheels come in several diameters (the measurement from one side of the "circle" all the way to the other side) and each one has different properties and uses. 
45 mm

– These skate wheels are on the smaller side and are often used for artistic skating. Due to their small size, they make it easy to accelerate quickly; but they also require more effort to keep that speed going. Being smaller also means that they weigh less, which is an important consideration when attempting jumps and spins. 

57 mm-62 mm

– The larger diameter of these wheels means that they take longer to get up to speed; however, once you're there, you can maintain that speed without investing as much effort. Look for something in this range if you plan to jam skate or play roller derby. 
Ready to replace those wheels and get rolling? Check out our wholesale skating equipment from top brands.