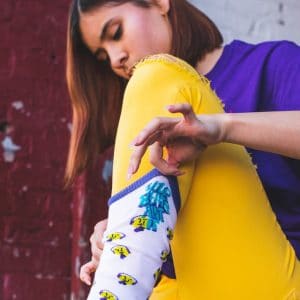 "What to wear roller skating" and "How to dress for the skating rink?" are common questions not only asked to Alexa, Google, or Siri, but also to skating rink staff. Do you know how to answer? The best way to help your customers know what to wear (and what not to wear) is to create your own rink rules for proper attire and post them clearly at the entrance, as well as other locations if you have available space. Check out some pro tips for creating your skating rink dress code. 
Socks, socks, socks!

Requiring socks should be rule number 1 for hygiene purposes. Plus, the person working the skate rental counter will thank you. This also allows you to provide more value to your customers by

selling socks at your pro shop

. Customers who forgot to wear or bring socks will be grateful, and you can even use this as a way to upsell customers by offering colorful novelty socks. 

Decide what you definitely will not allow.

Shirts and shoes required is a good place to start, but you'll also want to create a rule banning clothing that features profanity, obscenity, and/or offensive subject matter. 

Encourage safe and comfortable dress.

Skaters should wear comfortable clothing that allows them to move freely and doesn't endanger themselves or others. For example, tight jeans or dresses can be restrictive and make it hard to move on skates, while excessively long or loose clothing can get caught in your wheels or trip another skater. It's also better to avoid wearing anything that has a lot of metal on it, like a belt with a large buckle or pants with lots of zippers. Falling down while wearing hard metal elements can take a fall from "no big deal" to "OUCH!"

Reserve your right to make a judgement call.

It's not good for business to get too nitpicky with your dress code – after all, you want people to come have fun, not feel like they're back in school – but unfortunately some customers will push the limits from time to time. Make sure that your clearly posted skating rink rules include a mention of "proper attire" or "appropriate attire," as well as your

right to refuse service

or remove without refund anyone who is in violation of the rules. 
The occasional clueless or rude customer aside, owning a skating rink is an incredibly fun and fulfilling investment, creating a space where the community can come together to celebrate birthdays, fundraise for local organizations, or just have a good time. If you're looking for skating rink equipment or information to help you start or improve your skating rink business, Southeastern Skate Supply is here to be a resource for you.