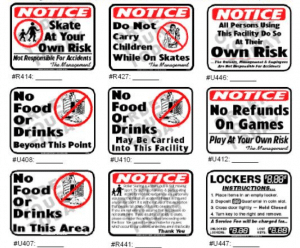 As most skating rink owners can tell you, there's a lot more than fun and games to operating a successful family entertainment business. From maintaining a facility and marketing events to running a staff and stocking the snack bar, you've got a lot on your plate! But no matter how busy it gets, always make skating rink safety your top priority. Check out a few tips from your friends at Southeastern Skate Supply to get you started. 
Skate Maintenance is Key
Carefully maintaining rental skates isn't just a matter of customer service, it's also a matter of safety. You should make sure these inspections and repairs are happening on schedule, and also keep detailed written records of all maintenance and repairs carried out on your skates.
Prior to handing the rental skates over to a customer, employees should inspect (and if necessary, adjust) the adjustment of toe stops and trucks, as well as the wheel locknuts and the mounting of the plate to the boot. 

Monthly, or every 150 hours, the toe stops should be inspected, rotated, and/or replaced. The same goes for the rubber inserts and cushions. King pins should also be inspected. 

Every 6 months or 1,000 hours, the cushion cups and action nuts should be inspected for wear and tear. 

Annually or every 2,000 hours, the toe stops, rubber inserts and cushions should be replaced. Inspect the toe stop threads for wear and tear. 

Every other year or 4,000 hours, replace the cushion cups, action nuts, and king pins. 
Make the Rules of the Rink Known
Aside from skate maintenance and rink policies for staff, it's also important to let your customers know the rules. The easiest way to do so is by posting skating rink safety signs. Check out our wholesale skating rink equipment section to find the right signs. 
Install a Security Camera System 
Unfortunately, despite the best safety protocols and precautions, sometimes incidents happen. Having a skating rink surveillance system may deter some criminals from trying any funny business in the first place, but if not – well at least you have video evidence on your side should a problem arise. From bogus accident claims to fights to theft, installing cameras is a smart move to protect yourself and your guests.