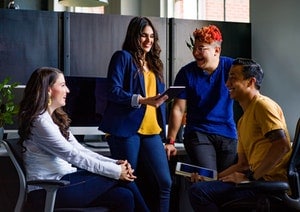 Corporate events and team outings can be a fantastic source of revenue for skating rinks and family entertainment centers when done right. However, you can't just expect a corporate group to show up and be satisfied without some preparation on your part. Employers expect team-building events and outings to provide a return on investment in some form or another—either in employee morale, improved communication, or stronger teamwork skills. 
So, how can you successfully facilitate team outings for corporate clients? Read on for some tips from your friends at Southeastern Skate Supply. We are passionate about providing rink owners with the tools and equipment to build a thriving skating and entertainment business. 
3 Tips for a Successful Team-Building Outing
Encourage corporate clients to schedule their events during standard business hours. 
While corporate holiday parties and after-hours celebrations should be scheduled, well, after hours, team-building events should be scheduled between 9 am and 5 pm. This affirms its importance as a team-building event and generally goes over better with employees. No matter how fun a team-building event is—and they can definitely be fun at a skating rink—it's still a work activity, and no one wants to be at work late.
Create a comprehensive team-building program. 
Before you book your first corporate team-building event, make sure you have a detailed plan in place. Creating package options that include not only the activities, but also food and drink makes planning the event easier on you and the client. This is also a good opportunity to upsell arcade tokens, laser tag games, etc. 
You need to be able to explain to the client how the event will run from the moment they enter the facility until the event is over. How much time is set aside for structured activities versus time for the employees to mingle, skate, play games, etc.? In addition to carefully planning and documenting your team-building program, you will also need to train employees on the differences between corporate events and other events hosted at your skating center. 
Encourage collaboration among participants, not competition. 
When planning team-building activities, try to foster a sense of collaboration, not competition. Cooperative games and exercises that build people up are much more effective than competitive events that reward strong skaters while punishing less experienced skaters. That's not to say that you can't incorporate any elements of competition, but keep it friendly and light-hearted as opposed to a cut-throat contest in which only the most skilled skaters are having fun.