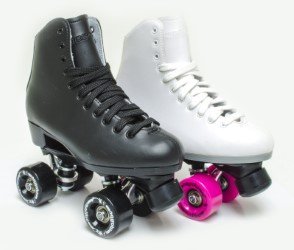 Millions of Americans every year are skating for hours on end at local skating rinks. (That's really no surprise since roller skating has so many health benefits!) That's a lot of feet! If you run your own rink, it's very important to keep your skates updated. People will have more fun gliding around the rink in fresh skates, which will keep them coming back time and time again.
How do you know it's time to refresh your rental skates? These are good indicators that you need to update or purchase new rental skates:
Worn out boots
Loose wheels
Lingering odors
Complaints about fit or quality
If you're good on these items, those rental skates are good to go! Just replace frayed skates and old wheels as needed to keep your skates in top shape.
Skates, Skates, & More Skates
Now that we've covered several of many reasons why you need to restock your skate supply, we want to make it extremely easy for you to do just that! Our roller skate inventory is stocked with inline skates, hockey skates, bearings, laces, skate bags, rental skates, and much more.
More Than Just Skates
We have an incredible inventory of skates, but we have much more than that at our warehouse! Do you want to renovate or create a delicious-looking snack area? We have snack bar equipment and seating accessories you need to make your cafe look comfortable and inviting!
Aside from the rink itself, many skate centers have carpet throughout the building. We can help you with funky and fresh carpet to help make your center feel brand new. And, of course, we have skating rink signs that will light up your center.
If you have any questions about our inventory, contact us today. The team at Southeastern Skate Supply is more than happy to help!