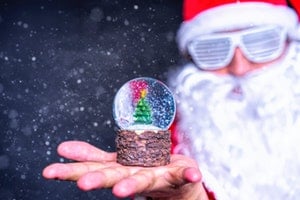 It's the most wonderful time of the year—for event rentals! As a skating rink owner, you no doubt know the importance of booking private, public, and semi-private events, from corporate holiday parties to church groups and everything in between. So, how do you plan to make your holiday event rentals a success this year? Read on for some tips from the skating business pros.
How to Host the Best Holiday Parties
Offer multiple package options. 
Some clients just want to throw a casual get-together on a budget, and without having to do much prep or legwork themselves; others want to create an incredible custom experience for their guests. Both are important components of your business, so make sure your party/event package options have levels to accomodate both. Basic, mid-tier, and high end packages are a good place to start (you don't want too many package options either, as that just confuses people), with a la carte add-ons like decorations, arcade cards or tokens, additional guests or food, etc. 
Deck the halls. 
If you're planning to rent your skating rink or family entertainment center out for holiday events, give people a reason to want to celebrate with you! Decorations can go a long way to making your venue feel like a special treat to attendees. They don't have to be fancy, either; a classic Christmas tree and some string lights in the lobby, garland and lights around the DJ booth, and employees wearing Santa hats will put the HO HO HO in your holiday parties!
Do something unique. 
Does your rink have any unique features, amenities, or attractions? Be sure to hype those up in your party and event marketing. Remember that people love sharing their experiences on social media these days, so take full advantage of the free publicity. You should have signs around your facility telling customers where to find and tag you online and letting them know your hashtags. 
You can even take the social media savvy to the next level by creating a photo op or "Instagram wall," i.e. a backdrop where people can take selfies and group photos. (Make sure to include your hashtag and Instagram handle.) This could be a mural, a seasonal photo booth setup with fake snow and trees, a "gingerbread house" made out of cardboard, a crafty modern backdrop, or even just a shiny photo backdrop from Amazon. Recruit your most creative employees to execute the idea and have fun with it!
Make sure your music is jingle bell rockin'. 
A good mix of holiday music and classic skate jams that make people want to get up and skate are key to having a good holiday party. Too many (or not the right) holiday songs can be a little much, but you want to keep things festive and seasonal. Consider bringing in guest DJs to change things up, or get everyone in the spirit with Christmas carol karaoke! 
Once you're booked up with awesome holiday events, make sure you're stocked up as well! We've got the rink equipment and novelties you need at Southeastern Skate Supply.