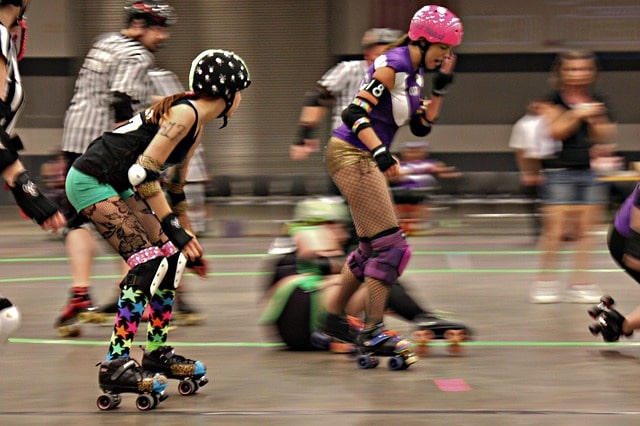 Happy National Roller Skating Month! If you own a skating rink, it's your time to shine. This month is the perfect time to connect with your current and potential customers to drive more foot traffic and sales.
Educate your customers on the benefits of roller skating.
If you own a skating rink, there's no doubt that you know the many proven benefits of roller skating—physical, mental, and emotional. But do your customers know those benefits? One of the best ways to celebrate National Roller Skating Month is just to share this information with your audience.
Consider hanging posters around your facility, sharing infographics on your social media platforms, or even contacting the local news to do an interview with you about the value of roller skating. Check out the RSA (Roller Skating Association) website for some great resources, including printable posters. 
Want to reach new skaters? You could even host a free or discounted skating lesson sometime during the month.  
Reach out to local organizations.
This is also a good time to reach out to schools, sports leagues, scouting groups, and other local organizations to see how you can gain visibility in the community. Make sure you're submitting your events to local event calendars, from the city or county Recreation Department website to the local Chamber of Commerce, or even established mom bloggers in your town! 
If you're not already, consider offering discount admission to students who make the honor roll. You can get in front of a lot of kids and parents by doing this, especially if you can include a flyer for kids to take home to their parents. You can also capitalize on local events by offering discount admission to anyone who comes in with their ticket from last night's football game or whichever event is the current talk of the town.  
Thank your regulars (and make others want to be regulars). 
Among the many great ideas the RSA has provided for celebrating National Roller Skating Month, these are some favorites:Â 
Highlight your regulars! If you have amazing skaters who are always at your rink, put some photos or videos of them up on your monitors and projectors. 

Run a social media contest for a prize. Skaters can tag themselves or check-in at your location to be entered, or you could have people "vote" on their favorite skater's photos/videos by liking and commenting.  

Start a challenge trend. Ever since the Ice Bucket Challenge went viral, challenge videos have been all the rage with kids (and even internet-savvy adults). Have one of your employees or regulars post a video of them doing a certain skating move or trick, and challenge others to put their own spin on it. 
At Southeastern Skate Supply, we love helping skating rink owners and FECs find the equipment and resources needed to maintain a thriving business. Check out our Roller Skating Business Resource Manual to learn more, as well as our Wholesale Equipment pages to shop everything from roller skates to signage.