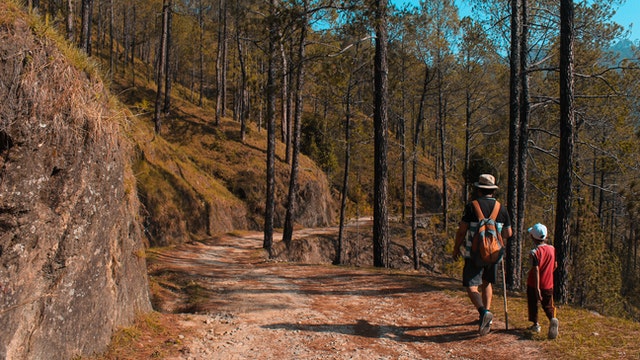 Fall is officially here! After the unrelenting heat of summer and the stresses of the ongoing COVID-19 pandemic, the cooler weather is making everyone want to head outdoors. Getting out of the house and doing some outdoor fall activities will be good for your family's mental and physical health. Check out these family-friendly outdoor activities for fall around Atlanta!
Fall Family Fun: Outdoor Activities in Atlanta
The coronavirus pandemic is still going strong in many areas, so social distancing, hand hygiene, and masking up are still important. However, being outside in the fresh forest air is a lot better than breathing in recycled air at the mall or movie theater. These ideas will help you seize the season and get every drop out of the PSL (Pumpkin Spice Latte) of life. 
Go roller skating.
Did you know that you can convert your indoor roller skates into outdoor skates? Roller skating is a fantastic cardio workout, but it also builds muscles, reduces stress, and burns calories! Skating is the most fun you can have while still getting a workout, and you can make it even more exciting by skating outdoors. 
All of those numbers and ratings on skate wheels can be a bit overwhelming, but don't worry—we've got your guide to choosing the right skate wheels. Whether you're cruising sidewalks in your neighborhood, zipping along the trails of a nearby park, or even jumping into the fray at a skate park,  skating will get your heart pumping while keeping your whole family entertained. 
Take a hike (or several).
Every season has its own charms, but there's nothing quite like fall in the North Georgia mountains. It's the perfect time of year to take a hike with your kids and appreciate the vibrant colors of the changing leaves. Fortunately here in Atlanta, there are tons of kid-friendly hiking opportunities nearby—Fernbank Forest, the Dunwoody Nature Center, Arabia Mountain, Doll's Head Trail, and Kennesaw Mountain, just to name a few. If you're willing to take a day trip, there are even more hikes to see within a couple of hours, like Brasstown Bald, the Ocmulgee Mounds National Historical Park, and even a trail featuring a 270-foot suspension bridge over the Toccoa River! 
Shoot the Hooch. 
While tubing down the Chattahoochee River is most popular during the sweltering days of summer, those with an adventurous spirit may still enjoy this laid-back outdoor activity even in the early fall. Check with the tube rental companies before you go, and be sure to do your homework beforehand to check on the weather conditions, water safety, and everything else you need to know about shooting the Hooch. 
Have a picnic.
Sometimes the simple pleasures are best, and that definitely includes the humble picnic. Pack some snacks, grab a blanket or beach towel, and head to your neighborhood park (or even just your backyard!) for some al fresco dining in the cool, autumn air. And the dancing fireflies even provide a lovely after-dinner show. 
What are your favorite outdoor family activities for fall?