Have you ever wondered what to do about boredom in the office or at school? Most people resort to nail biting or other fidgeting habits. The Fidget Spinners have become "The Must-Have Office Toy for 2017". This is because of all of their good qualities and reviews.
The smooth movement between the gears makes it an addicting habit that will be sure to stop any of your nail biting, or pen clicking habits that are annoying to others.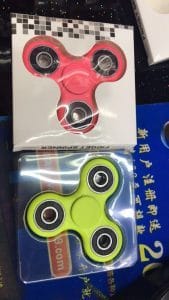 If you consider yourself a budget fidgeter, this fidget fixing tool is incredibly affordable. They are small in size, and lightweight, taking minimal equipment to construct. They are also appealing to the eye, coming in many different colors and fun shapes!
The come in several different styles; all of which are designed to help you out. There is a fidget cube that has many different functions. You can click, flip switches, or push buttons! Each of these delivers satisfaction to anyone who fidgets. Another design is the fidget slider, which solely allows you to slide your fingers around. Similar to small DJ sliders, you rotate your fingers in circles.
While it may not sound as fun as we are describing them, we challenge you to purchase one and let the action do the talking. The satisfying feeling is greater than words can describe.
Have a job interview coming up? This can often create stress in the time up until that interview. We highly recommend this product to help you act on your nervous energy.
These little tools are selling like hot cakes and will continue to do so. So get them while they're hot!