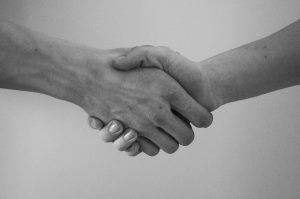 Strengthening bonds within your community is not only good citizenship, it's also great for business! If you're looking for ways to increase community engagement for your skating rink, check out these tips.
Here's how to engage your business with your local community:
Let local charities know that you're available for fundraisers. Consider donating a birthday package or free skating passes to a local nonprofit for them to use in a silent auction or raffle!

Reach kids and parents at school

. Offer to work with a local school (or even a whole school system) to give a small discount or prizes to honor roll students. Their families will come with them, and you can draw them in with family pack specials or meal deals. You'll be giving kids a lifelong love of skating, and who knows, maybe some of them will make great employees when they get to high school!

Spread the word – Be sure to post your events on Facebook, and encourage customers to RSVP. Their friends will see it in their timelines when they select that they are "Interested" or "Going" to the event. Most areas also have at least one local event calendar. Check your local city or county website, chamber of commerce site, and with any local magazines. The organizations will be excited for more content for their calendar, and you'll get free advertising.
Remember to restock your toys and novelties as well as all your skating rink equipment before your next big event! We have everything you need to make your events a smash hit with your community!