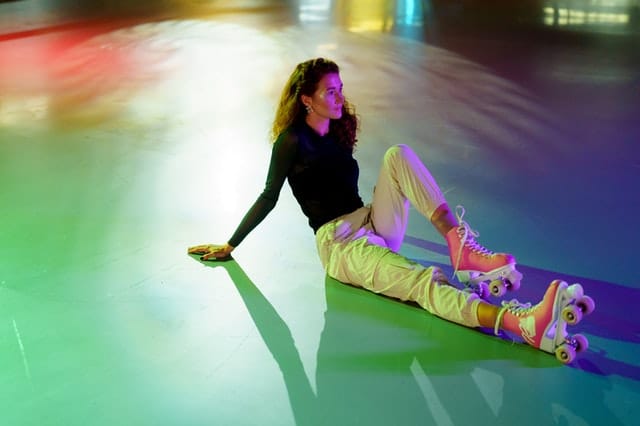 Personal style and fashion have always been a part of roller skating culture, but today, there are more options than ever before to help you express your individual style on the skating rink. Skate manufacturers like Rollr Grl, Sure-Grip, and Vanilla have been putting out a steady stream of fashion-influenced quad skates that reflect the latest trends, from pastel colors to glitter finishes. But before you could find stylish skates in just about any material, color, and cut you could possibly want, skaters still found ways to trick out their skates. If you're looking for ways to personalize and accessorize roller skates, we've got the inspiration you need. 
5 Ways to Accessorize Roller Skates
Boot or Toe Covers
Boot covers are stretchy fabric items that, as the name implies, cover your skate boots (the part your foot goes in). They protect your skates from wear and tear, keeping them clean and un-scuffed… Plus, they come in all sorts of fun colors and patterns, so you can definitely find some that fit your personal style. Polka dots, dinosaurs, unicorns and rainbows, zombies, you name it—there's probably a boot cover version available on Etsy.     
Toe covers serve a similar function. They are typically made from suede or PU (pleather/vegan leather) and protect the toe of your skate boot from scuffs and scratches. 
Wheels
Skate wheels come in different sizes and hardnesses, and the right wheels for you depend partly on practical concerns like whether you'll be skating indoors or outdoors, your size, and what type of skating you do. But when it comes to indoor skating at a skating rink, there are some fun wheel options that can spice up your skates. Bright colors, bold patterns, and glow-in-the-dark finishes are easy to find. Want to turn the awesome up to 11? Opt for light-up skate wheels that stand out on a dark skate floor. 
Laces
One of the easiest ways to change the look of your skates is to replace the laces. There are glitter laces, ombre laces, and much more to choose from. In addition to the laces themselves, you can ornament your skates with decorative lace locks or charms. You can even buy decorative wings (take your pick of bat, butterfly, or angel) that lace onto your skates.
Pom Poms
Another classic roller skate accessory is pompoms! Fluffy, colorful pompoms are a fun way to add personality to your skates, and can easily be changed out with the season or your mood.
Lights
As we mentioned above, light-up skate wheels are a great way to stand out on the skate floor and draw attention to your fancy footwork. But wheels aren't the only place to light up! You can also install color-changing LED lights beneath your skates for a cool underlighting effect. There are even lighted toe stops.